Sure, dogs are a man's best friend, but dogs are also no angels. They can dig up your sprinkler system without a drop of displayed remorse. They can chew up your new high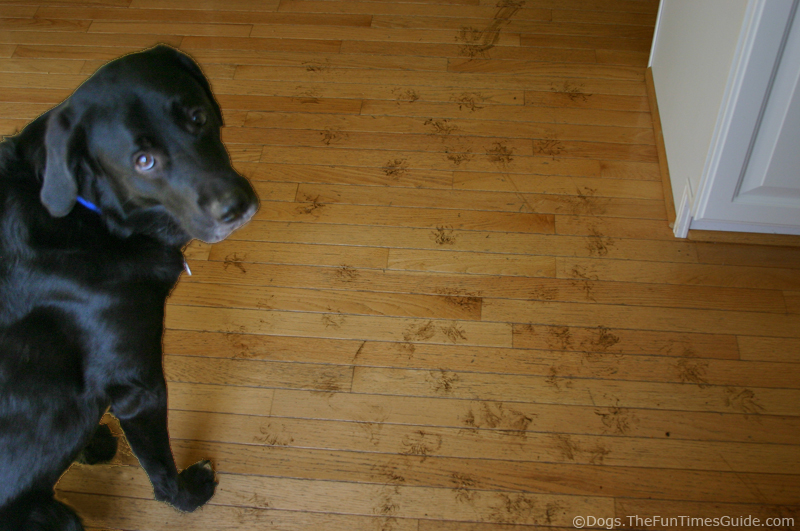 heels while wagging their tails. They can poop on the carpet with a cheerful bark. And they can scratch up your wood floors. If you have a dog that lives primarily indoors, the chances are excellent that your hard wood floors bear a few scrapes and bruises. Hard wood floor repair and installation experts attest to this reality saying that they do their fair share of jobs caused by dogs, especially dogs stratching up the floors.
Many will say that a good quality polyurethane seal will protect wood floors from urine stains and scratches and rightly so. Still, this seal won't do the trick completely. Fortunately, many hard wood floor professionals know their stuff and we've collected their wisdom in order to advise you as to how to fix minor floor repairs that your precious pooch might cause.
Let's start with scratches. The first trick is a brilliant (and inexpensive one). You can simply conceal any surface scratches. How, you ask? Well, you can use a stain-filling marker. Minwax Wood Finish Stain Marker, which sells for under nine dollars at hardware stores, is a good choice. Keep in mind that a stain filler only works for superficial scratches. Deeper ones require a different sort of treatment. These deeper gouges required a wood filler. The filler requires sanding down and staining. When you sand it down and stain it to match the floor though, you will be well on your way. You might not be sure what color to stain the filler. If this is the case, just use this rule of thumb: start by staining the filler a light color and then gradually stain it darker until the filler matches the other wood planks.
This use of filler will only work on deep gouges that cover a small surface area. For scratches that cover a large area, use a sanding and restaining technique on all of the affected boards. Then, follow this action up with a resealing with polyurethane. Matching the polyurethane to the existing boards might be a difficult task. Either way, be sure to match the existing polyurethane finish with the right polyurethane sheen: either gloss, semigloss, or satin. For your optimum result, coat the entire length of the board you're repairing even if you're repairing only a small section.
After scratches, the next area of concern are those spots on the flooring that dog's waste products have affected. Dog urine can penetrate wood, even if floors are sealed, reaching the subfloor that lies below. The result is discoloration and a stench that can only be described as ammonia-like. Yuck!  Dark stains may mean you need to replace the affected boards as such dark stains indicate boards that cannot be replaced. If the stain is lighter in color, however, you may be able to fix the problem by sanding the finish off and then scrubbing the boards with wood bleach, a product you will be able to find at lumber yards. You'll need to then finish the plank.
If you try these fixes, and the problem still remains,
T & G Flooring can help you
figure out what to do next in order to restore your flooring to its former glory.