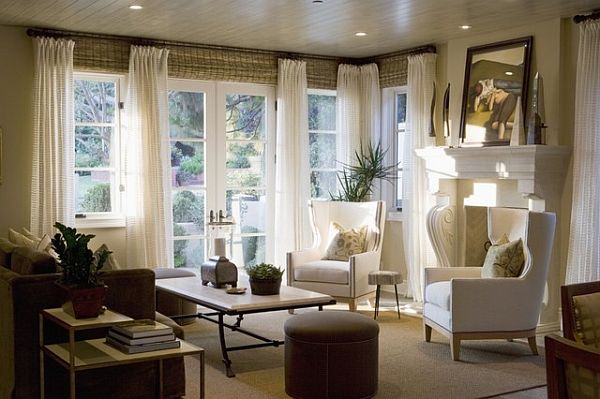 Any person who has ever moved into a new home or remodeled an existing home understands how important window treatments are.  Window treatments are any product or item that goes on, above, around, or underneath a window.  For example, blinds, shades, shutters, and drapes are all forms of window treatments.  Window blinds are perhaps the best known and most common form of window treatment.  However, there are numerous different types of blinds, all of which provide a different aesthetic and function.  Here are five of the most common types of blinds.
1.  Wood Blinds.  These are one of the most common forms of blinds, and for good reason.  Among all of the blinds, wood blinds give perhaps the most pleasing aesthetic.  They also are very durable, meaning they will hold up for years to come.  They really add warmth to any room, and they also control the light effectively.  Therefore, wood blinds are great for achieving the perfect lighting in a particular room.  You can get them finished with any number of polishes, and they can come in a wide variety of colors.  You can also add things such as cloth to them to give them a nice accent color.
2.  Faux/Composite Blinds.  This is another common type of blind.  Essentially, faux or composite blinds are for people who want the same look as wood blinds, but for less cost.  They are not made of wood but rather of a cheaper material, making them more affordable for people who are on a tight budget.  In the same way as wood blinds, you can get them in a variety of colors and stains, so you can be sure to find some that will match your home perfectly.
3.  Metal Blinds.  Metal blinds are also a common type of blinds.  Typically, metal blinds are made of aluminum.  They offer a wide variety of color possibilities, and light shines off of them in unique ways.  They have become more popular over the last few years.
4.  Panel Coverings.  This type of blind offers clean lines and a more modern look.  They look great because they give the room a much simpler appeal.  They can work great to block out all of the light, or let all of it through, because of their design.  In many homes, they also double as room dividers.  As with most types of blinds, you can really alter them to get the kind of aesthetic you've been hoping for.
5.  Vertical.  The last common form of blinds are vertical blinds.  Typically, blinds are horizontal, so when they are lowered or raised, they go up and down.  With vertical blinds, they move from side to side.  They are great because they give a unique lighting to a particular room.  In essence, the look they give a room is softer.
When determining which blinds you would like for your home, it is always great to speak with a professional and get their advice.  Cloud 9 Designs is a great window coverings company with extensive experience in the industry.  They will be more than happy to answer any questions you may have.